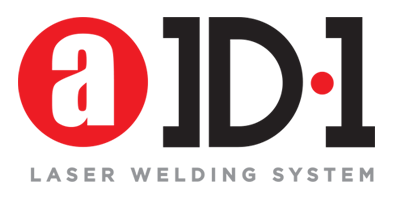 Engineered for todays molding tool rooms.
When you need the versatility to repair large damaged blocks as well as fine intricate inserts and details the ID1 rises to the occasion. Built to meet the demands of todays tool repair needs we have eliminated costly and unnecessary applications that only drive up the price. Instead focusing providing a manually adjustable, high precision, maintenance free, affordable laser welding solution. Simply put the ID1 is the preferred choice fo   
The ID1 is built intentionally with many manual adjustments meaning ease of use in all situations and eliminating the concern for mechanical failure.
No Maintenance means that the ID1 is always ready to work when you need it most. Built off of a fiber laser platform means zero consumables or replacement lamps and mirrors saving you time and money.
Versatility was a key factor when designing the ID1. With five rotational pivot points you can get to any damaged area for repair with ease.
Utilizing a touch screen tablet for all laser parameters and settings. Bluetooth and WiFi enabled allows for wireless application. You can save all of your most frequently used parameters and call them back for easy use. Now you can control all laser applications from one place.
20x Leica microscope with crosshairs for focal clarity, aiming precision, and light protection.
Laser welding long sections of repair is easy with 250mm or fully motorized X and Y travel. Longer arms are available upon request as an add on feature.
When laser welding it is important to remember that its not always a flat area. The ID1 has 5 strategically placed pivot points to hit the difficult areas while putting an emphasis on ergonomics and comfort.
Adjustable gas assist nozzle system for cleaner welds.
Developed and built for easy portability using a standard pallet jack.
Powered by 220v single phase and the fact that no chiller is needed means less ambient heat around the system and greater energy efficiency. 
The ID1 uses an IPG Full Solid State Laser Power supply which eliminates the need for costly maintenance that a traditional YAG system might require. No chiller, no lamps, always dependable. ID1 is available in 300w, 450w and 600w powers.
The ID1 is simply air cooled and does not require the need use of an external chiller. 
The ID1 has a progressive joystick with complete X, Y, Z movement control. With 2 speed options and the ability to fire the laser from the joystick button.
Versatility is the foundation of the ID1. With 762mm of motorized Z travel you have the ability to weld on a bench or a larger tool placed on the floor. Almost nothing is out of reach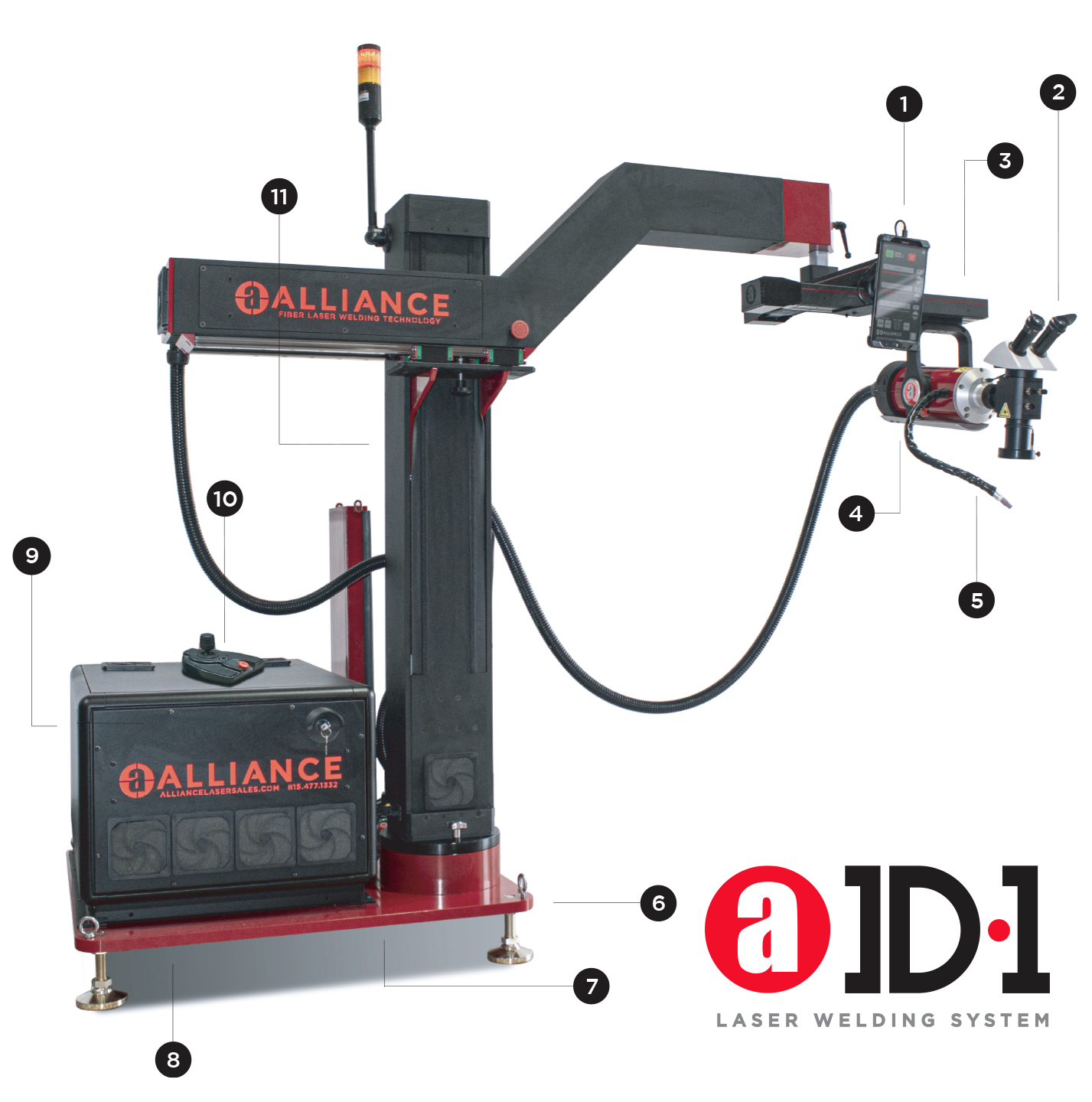 ID1 Fiber Laser Specifications
ID1 Specs
LASER SAFETY CLASS
CLASS 4 STANDARD
BEAM SOURCE
FSS FULL SOLID STATE FIBER LASER
WAVELENGTH
1070 nm
MAX. PULSE ENERGY
30J | 45J | 60J
MAX. PEAK POWER
3000W | 4500 W | 6000W
MAX. AVGERAGE POWER
300W | 450W | 600W
ENERGY ADJ MODE
CURRENT
VOLTAGE
10 – 100 %
PULSE WIDTH
0,1 – 20 MS/CW Mode
PULSE FREQUENCY
1-100 hz
PULSE FILL
–
PWM MODE
1 – 100 %
FOCAL LENGTH
200 mm Standard (options available)
ID1 Specs
BEAM DIAMETER
100 µm – 2000 µm, ADJUSTABLE
MICROSCOPE
STEREO MICROSCOPE 20x
ILLUMINATION
INTEGRATED LED RING LIGHT
PARAMETER SETTINGS
N/A
ENERGY MEASUREMENT
N/A
CONTROLLER
3 AXIS HAUL EFFECT WITH LASER TRIGGER
INTERFACE
N/A
SHIELDING GAS SUPPLY
FLEXIBLE NOZZLE W/ GAS LENS FILTER
COOLING SYSTEM
AIR FAN
COOLING OPTION
N/A
ELECTRICAL SUPPLY
TRANSFORMER
POWER CONSUMPTION
N/A
On-Site Demo
You cannot know if a system is right for you until you experience it for yourself in your environment. Let us know when we can bring the ID1 to your facility to experience the difference we can make. 
We want to make a difference for you. Contact us and let us know how we can help.
Alliance Specialties and Laser Sales